Bore – refers to a hole cut in either a door or jamb to allow for hardware. The face bore is the bore that goes through the stile face of the door and is typically 2-1/8″ in diameter. The latch bore is the bore on the edge of the door for the latch and deadbolt and is typically a 1″ diameter hole. The jamb is also bored to allow for the latch and deadbolt to engage and keep the door closed and secure.
Door slab – a door that has no hinge or lock prep; in other words, it is not "prehung" in a jamb.
Door Swing – Reference this guide: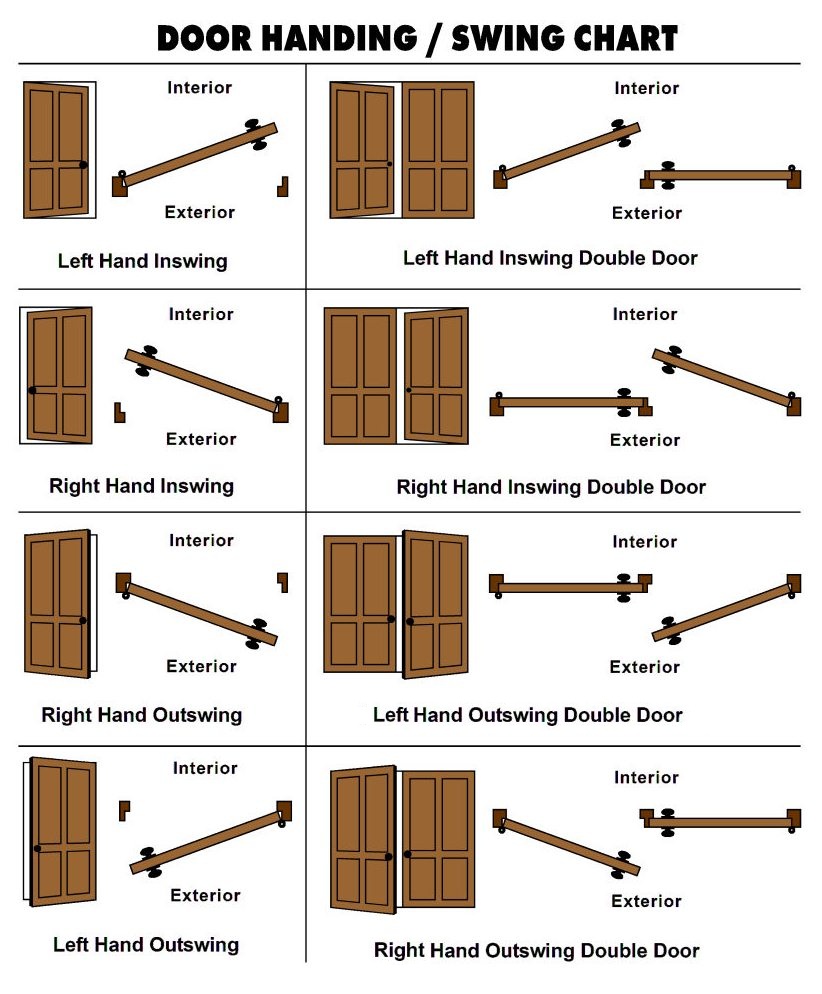 Hinge – the hardware that attaches a door to the jamb and allows it to swing open and closed. They can have square or radius corners and come in a variety of sizes and finishes. The standard hinge size is 4″x4″ for 1-3/4″ door thickness; standard for a 1-3/8″ thick door is 3-1/2″x3-1/2″.
Jamb – the frame around a door. It consists of various components such as the jamb legs, header, threshold, hinges, and weatherstripping.
Kerf – the groove cut in a jamb to allow for weatherstripping.
Threshold – the component underneath the door that makes up the bottom portion of the jamb. It is typically made of aluminum or in some cases wood or a composite material.
Weatherstripping – the component that seals around the sides and top of the jamb to make a door weather tight. The two types we offer are kerf (compression type) and v-crimp (copper metal type).